Innovations in science education
Engaging in Argument from Evidence
Getting Started | A Reviewer's Guide
This three minute video gives a brief overview of each of the alignment documents created by SEPUP to support program evaluation. These resources are meant for schools and districts using the EQuIP or PEEC to measure alignment to the NGSS and should be expected from any NGSS-aligned developer.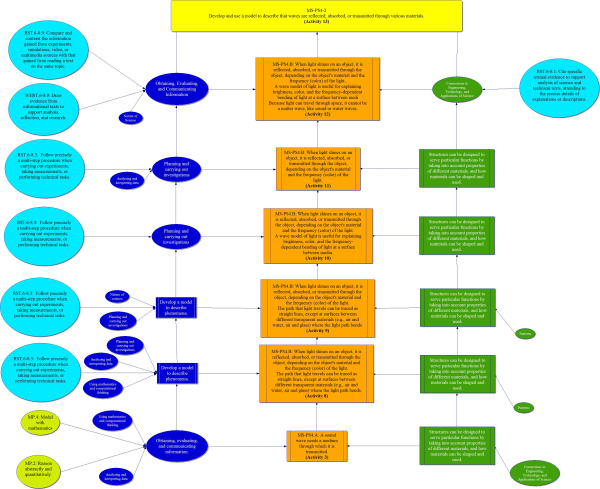 Connecting the 3 dimensions
Alignment documents, like the ones below and featured in the video above, have value during a curriculum review. But no matter how thorough, it is difficult to visualize the connectedness of the three-dimensions in such a format. Enter the Learning Pathway - a tool used by SEPUP during development, not after the fact to be sure the curriculum truly weaves the dimensions together. 
Courses by grade level | Designed for NGSS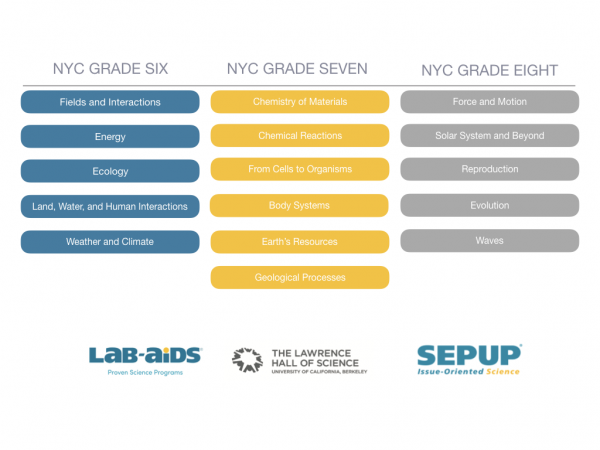 SEPUP Correlations to NYC
See grade level documents prepared with information on the Learning Pathway documents designed by SEPUP to guide their work on the NGSS redesign project. The Pathways show a single PE, and the treatment of the elements – the DCI, SEP, and CCC – in activities within the units to show how the PE standard is addressed.
Review SEPUP's design - Unit examples
Ecology, Third Edition | SEPUP
This seven week unit is anchored in issues related to introduced species and disruptions those may cause to an ecosystem. Students explore potential impacts through the use of models and by analyzing and interpreting data.
Explore alignment documents
Reproduction, Third Edition | SEPUP
This four week unit explores how genes are inherited and explains why siblings often look similar, but not identical, to each other and their parents. Focus is on the role of genes in determining physical traits, behavioral traits, and human genetic disorders.  

Explore alignment documents
Waves, Third Edition | SEPUP
This five week unit focuses on issues related to the harmful effects of waves due to exposure to excessive noise and sunlight and precautions people can take to protect themselves. 
Explore alignment documents
Above are three units and the evidence of their alignment to the NGSS. These same documents are provided, in various stages of development, for each of the 17 units from SEPUP's Issues and Science, Third Edition. 
Professional Development
Build sustainability through PD
Science educators have come to trust Lab-Aids as a valuable resource for engaging and worth-while professional development - whether it's an on-site implementation training, a summer academy to build instructional leadership, or a day focused on new standards or best-practice strategies.

Using a model similar to other large districts, we will create an intentional plan with NYC to build internal leadership and long-term sustainability of the program. This professional development will additionally support a deepened understanding of the new standards and how they strive to serve all students. 
IT'S NOT A TEXTBOOK. IT'S NOT A KIT. IT'S A PROGRAM.
A complete learning system
Each program component references the others to form a cohesive learning system for teachers and students. 
Questions?
Contact Us
We welcome the opportunity to address any questions, should they arise.